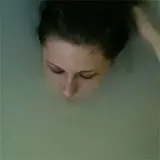 MTV was appropriately chosen as the spot to launch the first teaser trailer for The Runaways, the 1970s biopic about the girl rock band of the same name.
The flick, recently picked up by Apparition for US distribution, stars Kirsten Stewart (The Twilight Saga: Eclipse) as Joan Jett and Dakota Fanning as Cherie Currie, young rockers who form a successful all-girl band in a music business world dominated by males. Co-starring as the other band mates are Scout Taylor-Compton as Lita Ford, Alia Shawkat as fictional Robin (since Micki Steele's name cannot be used), and Stella Meave as Sandy West.
Though footage in the trailer is relatively sparse, from what can be seen thus far looks to match the girls' fierceness, craziness and sexiness that the original band was known for. It is certainly a far cry from Twilight for both the star young actresses and could help put Apparition on the map in a mini-version of what New Moon did for Summit Entertainment.
Look for The Runaways in theaters starting March 19.