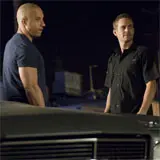 The first full-length trailer for Fast & Furious aka The Fast & the Furious 4 has hit the web thanks to Yahoo! Movies.
Half of the trailer is a single chase scene, like the teaser trailer is, whose conclusion is rottenly spoiled. On the plus side, at least you know when to get up and go the bathroom without missing anything.
Did the screenwriters sit down and watch Transporter 2 for inspiration? A couple stunts take suspension of disbelief and flush it down the can. I half expected Frank Martin to show up racing behind Paul Walker and Vin Diesel before the credits splashed.
Fast & Furious with the original's "parts" of Diesel, Walker, Michelle Rodriguez and Jordana Brewster drives into theaters on April 3.