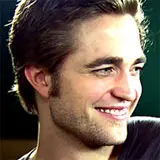 This evening the first installment of Entertainment Tonight's exclusive The Twilight Saga: New Moon set visit aired and came up a bit short of expectations.
Much of the two-part piece rehashes scenes and dialogue from the first film or flashes snazzy statistics and graphics. I don't think anyone watching wanted to see an extended recap of how successful the first film was.
Interspersed amongst the fluff are a couple brief glimpses at the ongoing New Moon production in Vancouver, Canada. Taylor Lautner, Kristen Stewart and Robert Pattinson are each given a few moments to talk about expectations for New Moon which are obviously set fairly high.
ET gets the first shots of Lautner in short sleeves as he works his way around the set. He has packed on 30 pounds of muscle and is clearly stockier for his maturation into a werewolf. Girls can commence screaming.
The next ET Twilight New Moon exclusive segment airs tomorrow night.