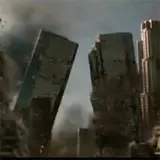 Sony Pictures has distributed five action-packed minutes of Roland Emmerich's 2012 in hopes of drumming up some buzz leading into the disaster epic's November release.
Please keep the following in mind before indulging in this CGI amusement park ride. Emmerich has proven time and time again that he's a master of destruction, not unfurling intricate plots or intriguing characters who emote naturally faced with the possible destruction of mankind. He handles logic with the delicacy of a UFC fighter. And last but not least, remember the finished product after Warner Bros. delivered a sneak peek at four solid minutes of Terminator Salvation that left us all salivating.
That said, cue up John Cusack outrunning a natural disaster with the aid of an indestructible limousine. 2012 will begin tearing our planet apart on November 13.