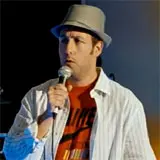 Joining the full-length District 9 trailer today on the Internet is a new restricted red band trailer for Judd Apatow's Funny People starring Adam Sandler, Seth Rogen and Leslie Mann.
The trailer is relatively similar to the one that debuted a few weeks ago but does include a handful of scenes with questionable material. Calling it a true restricted trailer is a bit of a stretch, though, with only a lone F-bomb not suitable for a traditional trailer.
Unlike Apatow's previous films The 40-Year-Old Virgin and Knocked Up, Funny People hopes to blend hardcore drama and what looks like some depressing subject matter with comedy. In his words, "I'm trying to make a very serious movie that is twice as funny as my other movies. Wish me luck!"
Funny People hits theaters on July 31.