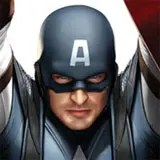 Marvel's Thor production may be nearly a half year ahead of The First Avenger: Captain America, but we seem to know a lot more about Cap than his Avengers teammate.
Captain America hasn't even started shooting yet and already what JoBlo.com confirms to be legitimate official designs for one of Captain America's two outfits hit the web via Aint It Cool News. These four pieces of slick artwork with Chris Evans' image built in match the description JoBlo published a few days ago.
Meanwhile we have yet to see only one image of Thor (and the whole movie for that matter, not counting the post-credits scene in Iron Man 2) and it's far from a full body shot. So while Thor remains a virtual mystery, behold the images of Chris Evans as Captain America below and hope whoever is responsible for the leak remains permanently anonymous.