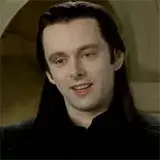 The Twilight Saga: New Moon is ramping up over at MySpace with the addition of a new Volturi themed featurette that compliments last week's similar piece on the Wolf Pack.
This time we get to see Dakota Fanning, Kristen Stewart, Robert Pattinson, Michael Sheen, Christopher Heyerdahl, Jamie Campbell Bower, Cameron Bright and even Stephanie Meyer chime in on the Volturi. Robert gets smacked around as his fight scene inside the Volturi lair is broken down. No Taylor Lautner for a welcome change.
The Twilight Saga: New Moon prepares to hit theaters on November 20. Ironically, The Twilight Saga: Eclipse wrapped principal photography just last week.