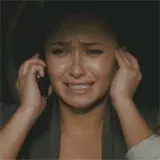 Earlier this evening the second trailer for Wes Craven's Scream 4 debuted on Entertainment and shortly thereafter was released online. I've got it ready to watch for you below.
The trailer reveals that the plot revolves around the 10-year anniversary of the original Scream murders. Sidney Prescott (Neve Campbell) is now an author and has returned to the small town of Woodsboro to presumably mark the event and put the nightmares from the previous attacks behind her.
A new generation of young and wild teens has come on the scene since Sidney left and is mocking the original murders. Someone, or someones, has decided it would be a good idea to reenact the events of Stab – the first movie-within-a-movie – and there's plenty of fresh meat to go after.
In addition to Campbell, Scream 4 stars returning franchise veterans David Arquette and Courteney Cox as Sheriff Dewey and Gale Weathers, respectively, along with newcomers (i.e. the fresh meat) Emma Roberts, Rory Culkin and Heroes' alum Hayden Panettiere.
Look for Scream 4 in theaters on April 15.
Watch the second Scream 4 trailer in high definition at Apple.