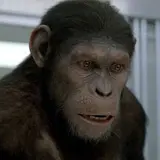 The first trailer for Fox's Rise of the Planet of the Apes introduced us to Caesar, an ape gifted with hyper-intelligence after his owner tested a disease cure on him. Caesar quickly goes from test subject to revolutionary leader in the trailer, leaving a lot of questions about his motives unanswered.
In the new second trailer for Rise of the Planet of the Apes, we get to see Caesar before any tests were conducted on him. He grows up entirely in the company of humans, spoiled and comfortable living with James Franco's character. When he's tossed into life in a cage surrounded by his rambunctious brethren, it's understandable why he becomes enraged about how they are held in captivity instead of living the lush life he once had.
You also get to see an ape hurling an axe at a police car. These apes mean business.
Rise of the Planet of the Apes stars James Franco, Freida Pinto, John Lithgow, Brian Cox, Tom Felton and Andy Serkis. It opens in theaters everywhere on August 5.