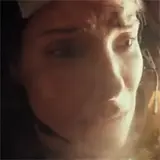 In space, no one can hear you scream. If you're an astronaut like Sandra Bullock or George Clooney in Alfonso Cuaron's Gravity that has been cut off from Mission Control while drifting aimlessly through space, being trapped on the Nostromo with an Alien doesn't sound all that bad.
Warner Bros. has followed up last night's online debut of the Gravity "Detached" clip with a new one called "Drifting." This one picks up where the first clip leaves off as Sandra Bullock's character spirals out of control through space after she detaches herself from a space shuttle arm. She is breathing heavily and panicking a bit, albeit doing so with a great deal of restraint. I would be spewing out expletives at an alarming rate.
Bullock then tries to make contact with Mission Control to no avail. She's starting to realize that she's alone in space, trapped in a suit with a limited oxygen supply. It's about as frightening as the prospect of being buried alive, if not more so. I'm sure real astronauts have this same fear tucked into their minds every time they launch on a new mission.
The big question surrounding Cuaron's high-concept thriller is whether it can stretch out drifting through space cross a feature film's run time. Ryan Reynolds found himself buried alive in Rodrigo Cortes' 2010 "trapped in a box" thriller Buried. That film had to rely on some forced scenes to stretch out the time, including a snake slowly crawling through Reynolds' tomb.
Gravity will premiere in North America during the Toronto International Film Festival in September. It's release date is October 4.