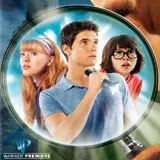 Warner Premiere has announced plans to bring, by my count, the third Scooby Doo live action/CGI blend film to Blu-ray Disc and DVD.
Scooby-Doo! The Mystery Begins is scheduled for a September 22 release which marks its debut in any format. It is a prequel to the previous films with a younger cast and Transformers' Frank Welker voicing CGI Scooby Doo.
Bonus features will be shared between formats and include the following:
Coolsville Yearbook – Character Time Capsule The Mystery Inc. Personality Quiz
Deleted scenes
Gag Reel
Character Pop Up Factoid Track
Coolsville News Network
Check out the Scooby-Doo! The Mystery Begins Blu-ray cover art below and expect pricing around $28 based on the $35.99 SRP.