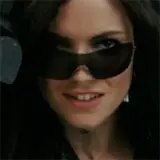 A third TV spot popped up on You Tube for Paramount's GI Joe: The Rise of Cobra.
This new spot isn't terribly exciting as most of the footage is recycled from previous spots and trailers. There are a couple new quick shots from the Paris street chase and some sort of building going boom in what looks like the desert.
The coolest new shot is of Scarlett firing her signature crossbow while riding a motorcycle into the back of an SUV, mostly likely carrying The Baroness. The girl has crazy accurate aim moving at those speeds.
GI Joe: The Rise of Cobra stars the ensemble cast of Channing Tatum, Joseph Gordon-Levitt, Sienna Miller, Dennis Quaid, Rachel Nichols, Marlon Wayans, Ray Park and Christopher Eccleston. Look for it to deploy into theaters on August 7.