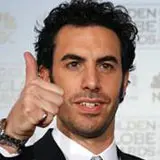 Millions of people saw the movie versions of Borat and Bruno and countless more caught Sasha Baron Cohen publicizing each film — always in character — on talk shows, the radio and various other outlets.
Now that the world is keyed into the shenanigans of Bruno and Borat, what is next for Cohen's politically incorrect alter-egos? According to Cohen, nothing at all.
"It's wonderful that the films are successful, but every new person who sees the movie is one less person I can be Borat or Bruno with again, so finishing a movie means having to say goodbye," Cohen told Wenn. "Admitting that you're never going to play the character again is like saying goodbye to a loved one. And that's hard."
As a relatively new father Cohen may choose to concentrate on his girlfriend, Isla Fisher, and their almost two-year old child, or work on new characters to bring to the big screen. Whatever he decides, it would appear Bruno and Borat have insulted their last unsuspecting victim.