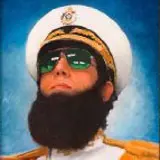 If Sacha Baron Cohen suffers a box office bomb with The Dictator, the last thing he can blame is a lack of exposure.
The man behind Borat and Bruno has issued a short statement in response to the Academy of Motion Picture Arts and Sciences turning down his publicity stunt idea to walk the red carpet in character as Admiral General Aladeen, the fictitious dictator he plays in the upcoming film. It starts off professionally enough, then ends with a zinger and promise that a full statement will be delivered tomorrow morning.
The zinger is calling the Academy of Motion Picture Arts and Sciences the "Academy of Motion Picture Arts and Zionists." It's just one out-of-place word, but I expect the full statement to be chock full of playful pokes at the folks who want the good General nowhere near the big Hollywood awards show.
As for that formal response, I'll pass it along after Paramount, err, Admiral General Aladeen's office issues it.
The Dictator will shoot athletes and bed Megan fox, for starters, when the film arrives in theaters on May 11, 2012.