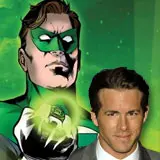 If someone asked Mel Brooks what he thought about Ryan Reynolds, the wry old comedian would undoubtedly say, "It's good to be Ryan Reynolds."
After a three-way casting royale emerged earlier this morning between Reynolds, Bradley Cooper and Justin Timberlake for the coveted role of Green Lantern in Warner Bros. Pictures upcoming flick, Reynolds has emerged victorious continuing his amazing run of good fortune per Variety.
The Green Lantern is expected to begin production in January based on a completed script by Greg Berlanti, Marc Guggenheim and Michael Green. A budget has not been set but given the recent runaway success of superhero films and Reynolds' crossover appeal to females, Warner is expected to roll out the big bucks.
Most any guy would kill for a chance to be The Green Lantern in a feature film. For Reynolds, his recent scores extend far beyond the DC Comics character. He has already co-starred in X-Men Origins: Wolverine as Deadpool giving him the DC Comics/Marvel accomplishment that will go even further with a Deadpool spin-off film in early development at Fox. Hugh Jackman must be jealous.
His latest romantic comedy, The Proposal with Sandra Bullock, has topped $100 million. Let us not forget his bride, the lovely Scarlett Johansson, who recently wrapped shooting her Black Widow role for Marvel's Iron Man 2.
Not only does Ryan get to play multiple superheroes but he gets to go to bed with one as well. It truly is good to be Ryan Reynolds.