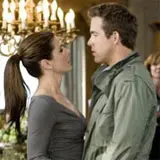 Universal is betting that the on-screen chemistry Ryan Reynolds and Sandra Bullock shared in The Proposal is easily rekindled.
According to Entertainment Weekly, Universal beat out four studios on Friday in winning the rights to Most Wanted for a cool $1 million. The action/comedy would see Reynolds play a U.S. Marshall escorting a criminal, played by Bullock, to her court date. An ambush later and the pair find themselves on the run where hilarity and a love connection are sure to ensue.
The screenplay is from Peter Chiarelli who also penned The Proposal. That film's director, Anne Fletcher, is in negotiations to direct. It would be a filmmaking family reunion of sorts without the familiarity of a sequel.
Most Wanted adds to an already full plate for Reynolds. He's currently shooting The Green Lantern for DC Comics and Warner Bros. in Louisiana, and is next pegged to star in The Change-Up with Jason Bateman. The earliest Most Wanted could get underway given his schedule is sometime in early 2011.