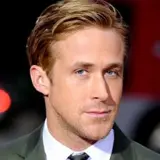 Ryan Gosling is set to reunite with Christina Hendricks in How to Catch a Monster, though this time he will be calling the shots from behind the camera rather than acting in front of it.
Not only will Gosling make his directorial debut with the "fantasy noir," he is also providing the script that will mark his writing debut. Shooting will commence next spring with Gosling, Marc Platt, Adam Siegel, Michel Litvak and David Lancaster handling producing duties.
How to Catch a Monster stars Hendricks as Billy, a single mother, who lives with her two children in a surreal dreamscape. While Billy is swept into a "macabre underworld," her teenage son discovers a secret road with an underwater town on the other end.
Christina Hendricks co-starred with Ryan Gosling in the indie hit Drive. For How to Catch a Monster, he is expected to remain behind the camera, though it's not out of the realm of possibility that he will insert himself into his first big screen creative endeavor.
Gosling's next big screen appearance will be in Warner Bros.' Gangster Squad, due to arrive in theaters this upcoming January.
Source: THR