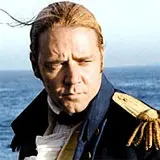 Russell Crowe may don his captain's attire once more and return to sailing the high seas.
In speaking with the AP this past week while in London, Crowe stated that he is in the early stages of negotiations to star in a sequel to Master & Commander but it is only one of several future projects he is considering.
Apparently a script has already been written based on The Reverse of the Medal, the eleventh novel of Patrick O'Brian's 20-novel series. In the novel, captain Jack Aubrey sails the HMS Surprise into the Caribbean where he meets his illegitimate son.
Master & Commander without Crowe on board would be a huge mistake so I'm sure there's a lot of pressure on him to attach his name and push to move the film towards green light status. As a fan of Master & Commander: The Far Side of the World, I really hope all parties can come to terms so the HMS Surprise can be prepped to sail again.