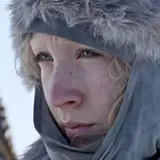 Warner's Arthur remake starring Russell Brand stumbled on its opening day at the box office, but the quirky star's other feature, Hop, picked up the actor's slack.
For the second Friday and likely weekend in a row, Universal will score the top film at the North America box office with Illumination's Hop starring the voice of Russell Brand. The live-action/animation hybrid pulled in $5.5 million on Friday putting it on pace to top $20 million for the weekend.
Arthur took second on Friday but didn't perform as well as Warner Bros. had hoped. Moviegoers didn't warm up to the idea of Brand playing the iconic Dudley Moore role and only coughed up $4.5 million on the first day. Arthur should take second place against the other two newcomers through Sunday, but the margin will be slim.
Taking third on Friday and off to a hot start is the fairy tale thriller, Hanna. It earned $4.4 million and should top $12 through the weekend, above the $10 million or so Focus Features had in mind.
Next was Universal's Your Highness which proved a newly crowned Best Actress winner on the cast list cannot overcome garbage. A $3.8 million opening day for the R-rated comedy starring Natalie Portman should translate into a $10 million or so weekend. At least Universal has Hop.
Last on Friday in the newcomers category, but not necessarily for the weekend, is the family drama Soul Surfer. Its $3.7 million open should pick up steam through Saturday and Sunday while Your Highness is expected to lose what little momentum it clings to.
The complete weekend box office studio estimates are coming your way Sunday afternoon.