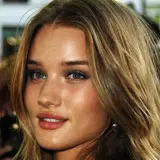 Michael Bay's official website has confirmed that Victoria Secret model Rosie Huntington-Whiteley is the new female lead in Transformers 3.
Bay's website moderator Nelson made the brief announcement though Bay himself has yet to comment, no doubt due to filming being well underway. "I would like for all you S4TE [Shoot for the Edit, Bay's website name] fans to welcome Rosie Huntington Whitely to the world of Transformers, Nelson said. "As some of you might know, she's the new female lead in Transformers 3. She's worked with Michael before in his Victoria's Secret 'A Thousand Fantasies' ad."
We still don't know if Rosie (as I shall now call her since her full name is 10x longer than Megan Fox) is replacing Megan Fox's Mikaela character or playing someone entirely new for Sam (Shia LaBeouf) to drool over and save.
Watch the closest Rosie has come to acting in Michael Bay's Victoria Secret ad below.