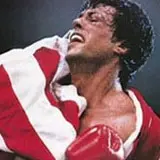 New retailer listings are suggesting MGM Home Entertainment will release Rocky: The Undisputed Collection in a seven-disc Blu-ray Disc set on November 3.
The set is labeled as including all six Rocky films: Rocky, Rocky II, Rocky III, Rocky IV, Rocky V and Rocky Balboa.
The most recent film, Rocky Balboa, was originally published on Blu-ray Disc by Sony Pictures Home Entertainment. The only other Rocky film to receive a North American Blu-ray release thus far has been the original Rocky.
Amazon.com is currently taking pre-orders for Rocky: The Undisputed Collection on Blu-ray priced at $69.99 or 30% off the $99.98 SRP. Click here to visit Amazon and secure your Rocky Blu-ray set.