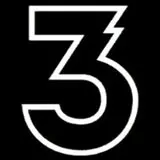 MTV and Harmonix today released the playable demo for Green Day: Rock Band that includes full versions of 'Welcome to Paradise' and 'Boulevard of Broken Dreams,' as well as a simple teaser screen for Rock Band 3.
The teaser features the familiar Rock Band instrument icons alongside the "3" logo. You have the drums, bass, guitar and three microphones, the latter probably a carryover of the three-part harmony vocals introduced in The Beatles: Rock Band.
There's also a brand new icon which unmistakably resembles some ebony and ivory keys. Will a keyboard peripheral be introduced in Rock Band 3? It's hard to refute the image and its source, an official Rock Band game.
E3 is just around the corner and we'll get the definitive word then.
There's also a chance Activision could unveil Keyboard Hero, a game they trademarked four years ago and have hinted at but not yet executed. With music game sales slipping, this holiday season seems like the perfect time to spruce up the genre with some new gear.
Source: Gamespot