A couple new photos have been snapped of Robert Pattinson hard at work on the set of his upcoming film Cosmopolis from director David Cronenberg.
One image shows Pattinson putting a gun under the chin of a suit-clad man apparently having a bad day. In that same image, and the second image, it looks as if Pattinson has cake or whipped cream or something smeared on the left side of his face. I guess he's having a bad day as well.
These images follow the first-look at the film that shows Pattinson and co-star Sarah Gordon riding in the back of a limo. That image was photographed and tweeted by Caitlin Cronenberg, David's daughter.
Cosmopolis is adapted from the novel by Don DeLillo. It also co-stars Paul Giamatti, Jay Baruchel and Juliette Binoche, and is due to arrive in theaters in 2012.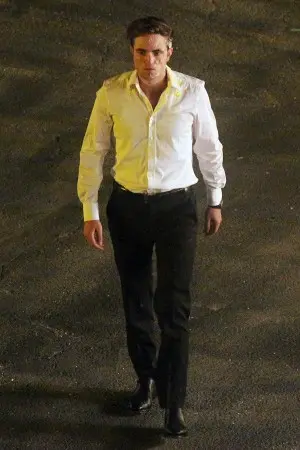 Source: Clever TV