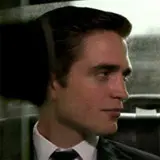 The first image of Robert Pattinson in David Cronenberg's Cosmopolis hit the web earlier today in the most unusual way.
Photographer Caitlin Cronenberg tweeted the image depicting a suave Pattinson and one of his co-stars, Sarah Gordon, riding in the back of his character's limo. You've probably already figured out that Caitlin is David's daughter, thus her being in a position to take the shot seen below and share it with all of us.
In Cosmopolis, Pattinson plays the part of Eric Packer, a young multi-billionaire who takes a day long trip across Manhattan in a limo in search of a haircut. Based on the novel by Don DeLillo, Cosmopolis also stars Jay Baruchel, Paul Giamatti and Juliette Binoche.
Look for Pattinson in Cosmopolis to arrive in theaters sometime next year.