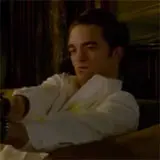 Robert Pattinson should successfully shake the Twilight teen heartthrob stereotype when he next appears in Cosmopolis, the David Cronenberg film based on the novel by Don DeLillo.
The first Cosmopolis teaser trailer hit the Internet today and paints a dark and erotic journey for Pattinson's character. He plays a billionaire asset manager who heads out in a limo in Manhattan to get, of all things, a haircut. It should be a quick to and back trip, but turns out to be anything but.
Along the way, Pattinson's character runs into his wife, gets cast in a movie, caught up in a riot, and stalked by two mysterious men. There's also a presidential visit that will throw Manhattan's already rough traffic nightmare to navigate into overdrive.
The plot may feel a little bit like Ferris Bueller's Day Off, but the tone of Cosmopolis is anything but. From the teaser trailer it's clear that Cronenberg has shot a hard R film as Pattinson shoots himself through the hand, lies naked in bed, and stabs a man through the eye. There's also multiple sex acts and other forms of violence. In other words, Cosmopolis isn't for the younger Twilight crowd.
Joining Robert Pattinson in Cosmopolis are Juliette Binoche, Paul Giamatti, Jay Baruchel, Samantha Morton and Matthieu Amalric.
Pattinson's edgy role in Cosmopolis will no doubt be compared to his Twilight co-star's Kristen Stewart's turn in On The Road. Both actors appear determined to move into more adult fare and are taking a bold first step beyond sparkly vampires.
As for when Cosmopolis arrives in theaters, no one is quite sure yet. It will premiere in France, where this trailer came from, in May. A North American release has yet to be set.