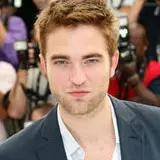 Robert Pattinson proved he isn't immune to Internet gossip when rumors sprung up that he had been cast in The Hunger Games: Catching Fire. His girlfriend Kristen Stewart, of all people, should have been able to tell him to immediately laugh it off.
Per USA Today, Pattinson awoke in Cannes on Saturday morning to stumble upon numerous Internet reports saying he had been cast in The Hunger Games sequel as Finnick Odair. Maybe he was hungover from just premiering Cosmopolis at Cannes the night before, but Pattinson thought the rumors to be strong enough to pique his curiosity.
Pattinson then called his agent and tried to verify if the rumors were true. His agent responded "No" and went on to tell Pattinson that " no one's going to offer you that part." Talk about a vote of confidence.
Lionsgate would be foolish to consider Pattinson for a role in The Hunger Games: Catching Fire so the rumors from Saturday should have been taken with a huge pinch of salt. The Hunger Games has already established itself as a pop culture phenomenon and doesn't need the Pattinson boost, which brings with it a big paycheck to the Twilight star. There's no reason for Lionsgate to confuse moviegoers with Pattinson appearing in both their big young adult franchises either.
The Hunger Games fans are calling for True Blood's Ryan Kwanten to land the Finnick Odair role. With production getting underway in August, we should find out who lands the coveted Catching Fire role before too long.
As for Cosmopolis, director David Cronenberg warned the young star prior to the screening that the Cannes audience can be "harsh." Robert Pattinson took it all in stride with Stewart in attendance. The dark drama based on Don DeLillo's book opens stateside in theaters this August.
Source: USA Today