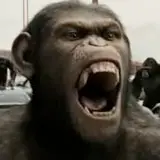 Fox has spent its first dollars on a sequel to Rise of the Planet of the Apes by throwing a large sum of cash in the direction of motion-capture extraordinaire, Andy Serkis.
According to Deadline, Fox signed Serkis on for the Apes sequel in a deal said to be worth north of $1 million. The man who brought CGI-star Caesar to life had no option for the sequel, so after the original pulled in $453 million in worldwide ticket sales, Fox was intent on making sure they locked him in immediately.
Deadline also reports that Fox will be pursuing an Academy Award campaign to hopefully snare Serkis a Best Actor nomination.
Director Rupert Wyatt is already locked in for the Apes sequel based on an option from his original Rise of the Planet of the Apes deal. Screenwriters Rick Jaffa and Amanda Silver are also on board, and are helping to hash our story ideas for the sequel now.
Fox is not pursuing James Franco or Freida Pinto for the sequel at this time, and likely won't make a decision whether to do so until the story is nailed down. All of the human characters were rendered disposable given Rise's closing scenes, though the ones who survived could just as easily return and continue to play a role in Caesar's ongoing story.
Don't expect the Rise of the Planet of the Apes sequel in theaters until 2013 at the earliest.
Source: Deadline