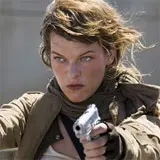 The fourth Resident Evil film has quickly gone from rumored to a release date as it races with Robert Rodriguez's Predators for the unofficial fast track from announced to in theaters award.
Per Fangoria, Resident Evil: Afterlife will be released on September 17, 2010, and will continue where Resident Evil: Extinction left off.
Because it is a continuation you can expect Milla Jovovich back as part human, part whatever for her fourth turn in the series. Series producer, Paul W.S. Anderson, is the likely candidate to direct again but there is no confirmation of that.
Are you all ready for another Resident Evil with an aging Milla retaining her leading lady status? Or do you think the film series is ready to bury itself and let the games carry forward the franchise? Chime in below in the Comments section.