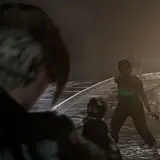 Capcom's Resident Evil 6 is only a couple weeks away from release. What a perfect time to release a new demo, and that's exactly what Capcom is doing today.
Xbox 360 and Playstation 3 owners can download a new Resident Evil 6 demo from Xbox Live Marketplace or the Playstation Store, respectively. Once downloaded, there are three different campaigns to choose from.
The first campaign allows you to play as either Leon S. Kennedy or Helena Harper and explore Ivy University. It has become the victim of the latest bioterrorist attack and is now swarming with infected people.
Jake and Sherry Berkin take on the second campaign in Lanshiang to go up against new J'avo enemies. Jake's got some unique hand-to-hand combat moves at his disposal, while Sherry will utilize her stun baton to fend off the J'avo.
The final campaign features Piers Nivans and Chris Redfield in the streets of Edonia. Here the pair will battle J'avo forces and ultimately square off against a three-story high B.O.W. Ogroman beast.
Resident Evil 6 hits stores for Xbox 360 and Playstation 3 on October 2.
Click here to pre-order Resident Evil 6 for Xbox 360 or PS3 at Amazon.com and earn a $10 store credit for doing so.