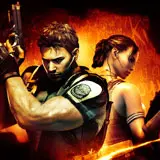 Capcom has released the official final US cover art for Resident Evil 5 on PS3 and Xbox 360.
The artwork looks suspiciously similar to what was used by Sony for the Resident Evil: Degeneration Blu-ray Disc movie. You can't rule out events in the game will tie into what transpired in the film.
Resident Evil is enjoying waves of publicity right now from this new cover art to Degeneration's release next weekend to news a playable demo is coming to the US in early 2009. The exact timing is not known but should become available in the coming days or weeks.
Check out the high-res covers below. We threw in the Degeneration cover as well for comparison's sake.
Resident Evil 5 will be released on March 13, 2009.