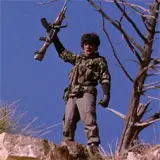 MGM has secured a writer and director for the upcoming remake of the 1984 Russian invasion flick Red Dawn per a report at HollywoodReporter.com.
Carl Ellsworth has been brought on board to pen a new script about high schoolers who fight back against a violent foreign occupation of an American town.
No information is offered in regards to which country the invaders will hail from or what time period the invasion will take place. We'll be happy campers as long as the kids cry out "Wolverines!" and wave their guns around after every kill.
Ellsworth does offer this hint about the tone he hopes to achieve in today's drastically different political climate:
"The tone is going to be very intense, very much keeping in mind the post-9/11 world that we're in. As Red Dawn scared the heck out of people in 1984, we feel that the world is kind of already filled with a lot of paranoia and unease, so why not scare the hell out of people again?"
Directing duties have been assigned to Dan Bradley (not me, the other one) who recently performed second-unit direction or stunt coordination duties on The Bourne Ultimatum, Spider-Man 3 and the next James Bond flick, Quantum of Solace.
We'll have more on the remakes of Red Dawn, Robocop, and MGM's quest to revisit every once-hot property they own as new developments arise.
Discuss Red Dawn and other upcoming films in the HDR Movies Forum.