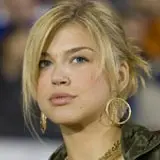 Next year's Red Dawn remake has recruited two more Wolverines to join already cast Chris Hemsworth as lead Jed Eckert.
Per The Hollywood Reporter, Josh Peck and Adrianne Palicki are officially on board the re-imagining of John Milius' 1984 Cold-War drama.
Josh will play Jed's younger brother Matt, the outspoken jock of the young insurgency against Russian and Chinese armed forces played by Charlie Sheen in the original. Adrianne will fill Jennifer Grey's role as quiet but tough and resilient Toni.
Here are your Wolverines thus far matched with their original counterparts, with more expected to be announced in the coming weeks.
Red Dawn is being directed by Dan Bradley (great name, btw) from a screenplay by Carl Ellsworth and Jeremy Passmore. Shooting is expected to commence in September with a September 24, 2010 theatrical release.