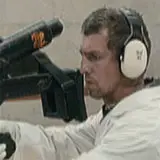 District 9 week has begun, folks. The film set to launch the theatrical career of director Neill Blomkamp, the acting career of Sharlto Copley, and shower more praise on Peter Jackson when it arrives in theater this Friday.
I have yet to see District 9 (my press screening is this Wednesday) but the general consensus amongst critics whom have is overwhelmingly positive across the board. To get a flavor for what they saw, I have three new clips to share below.
The first two are titled "Contraband" and "Sprayed" while the third, courtesy of MySpace Trailer Park, is a restricted Red Band clip that shows alien weaponry in use. All should be considered mildly spoilerish so if you want to go in virgin please move along.