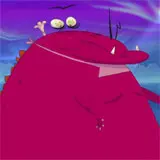 Ubisoft has passed along a new trailer from Rayman Origins, the stylish upcoming 2D side-scroller that features four-player coop.
This trailer is called 'Dragon' and for good reason. In it, Rayman is seen running through an environment that turns out to be the belly of a big beast. He'll have to make his way out, and will give the dragon a bad case of fiery indigestion in the process.
Check out Rayman in all his old school 2D-glory below. Look for Rayman Origins on Xbox 360, PS3 and Wii on November 15.
Click here to pre-order Rayman Origins on the console of your choice at Amazon.com.