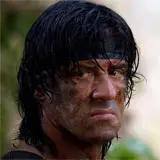 John Rambo still has some fight left in him and will next take out his anger against US and Mexican human traffickers and drug lords.
Per Variety, Rambo 5 will see Sylvester Stallone as Rambo go after a young abducted girl along the U.S.-Mexico border. If the gore from Rambo 4 is any indication then many heads will be parted from their bodies.
Nu Image/Millennium has greenlit Rambo 5 to begin production this spring. Currently they are working with Stallone on post production of The Expendables with co-stars Jason Statham, Jet Li and Mickey Rourke alongside Stallone. Though unconfirmed in Variety's article, Lionsgate will likely handle domestic distribution of Rambo 5.