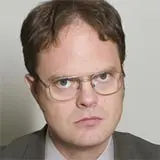 NBC is in the planning stages of creating a spin-off from The Office that would focus on star Rainn Wilson as Dwight Shrute living on his farm. No Dunder Mifflin, no paper supplies, no sales calls, and certainly no Michael Scott. Just Dwight and his family trying to live under the same roof and run a successful farm business.
According to Deadline, the idea of spinning Dwight off into his own show has been percolating internally at NBC for the past several years. Recently the idea has moved from "wouldn't it be cool if" to "let's do this," with Wilson and The Office executive producer and showrunner Paul Lieberstein leading the charge and creative direction.
The show is being billed as a "family comedy" that would surround Dwight with several members of his family on the beet farm. A source told Deadline that the show would include "multiple generations, many cousins and neighbors" of Dwight, a melting pot of diversity that Dwight would struggle to keep on the same page and functioning as a family.
Dwight's future on The Office has been sketchy since Steve Carell as Michael Scott left the show last season. Rather than Dwight getting the manager's position, goofball Andy (Ed Helms) was chosen instead. This had lead Dwight to seek other employment opportunities during the current season, including a trip with new high up boss Robert California (James Spader) to Tallahassee to check out a position there.
The source went on to state that the Shrute beet farm will be reintroduced in an episode later this season per the current plan. Jim and Pam had visited the farm in a previous episode. The new episode will serve as a launching pad for the new series that would debut in mid-season 2012-2013.
Wilson would return to the The Office for Season 9 in the fall, then effectively segue to the new show halfway through the season. It's unclear whether a new member would join The Office cast to take his place.
NBC has pulled this type of spin-off before when Kelsey Grammer's Frasier character left Cheers to join his family in Seattle. Wilson and his Dwight character would be following a similar path, though the urban setting of Frasier is a far cry from a beet farm, and Frasier is arguably far more likable than neurotic Dwight.
Source: Deadline