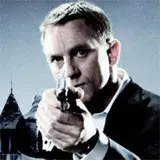 Activision has teamed up with Best Buy to celebrate the launch of James Bond 007 Quantum of Solace the game on Xbox 360, PS3, Nintendo Wii and other platforms.
136 nationwide Best Buy stores will pry their doors open at midnight on November 3, 2008 to sell the game to eager and ready for sleep deprivation Bond fanatics.
In addition, the store in West Hollywood will open at 10pm on November 3 to offer prizes ranging from Best Buy gift cards from $10.00 – $2,500.00, to one Sony BRAVIA XBR 52″ 1080p Flat-Panel LCD HDTV, three PLAYSTATION 3 computer entertainment systems, and more to be determined.
On top of that, anyone in line at 10pm will be amongst the first to play the new Bond theme song Another Way to Die performed by Jack White and Alicia Keys on Guitar Hero World Tour.
Click here to visit the Best Buy James Bond webpage for store locations opening at midnight.