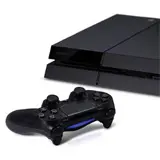 Sony's PlayStation 4 has joined Microsoft's Xbox One all-in-one entertainment and gaming system as arriving at Amazon.com and replenishing the depleted launch stock. That's right; PS4 is in stock at Amazon and ready to be grabbed.
The PS4 being offered by Amazon is the launch edition that is not bundled with any extra games or a PSN subscription. The cost is the same right now as it was when pre-orders first went live back in June, $399.99, and can be acquired with free shipping through either Amazon Prime (for subscription holders only) or via super saver shipping. The latter might not show up until next, but the former should arrive on doorsteps by Thursday.
Click here to purchase PS4 at Amazon.com.
Note that PS4 is in stock so it will ship shortly after an order is placed. Sony has stated that upward of one million PS4 consoles will be manufactured and made available to purchase around the world every month. There's no telling how long these PS4 consoles will last, but my guess is not long at all considering how quickly they have sold out before.
If I may offer any game advice for prospective buyers, I highly recommend Marvel Lego Superheroes, Killzone: Shadow Fall and the freebie title for PSN members, Resogun, as a great batch of games to fire up once PS4 is hooked up for the first time.