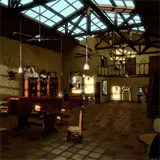 Sony had promised everyone would be able to experience the new Playstation 3 community software Home before year's end. They've come through on that promise.
At the official Sony Playstation Blog, Jack Buser, Director for Playstation Home, broke the big news that the Playstation Home closed Beta will be open to everyone beginning tomorrow, December 11.
Home allows users to create avatars and live within a virtual world with other players via the Playstation Network. In this space players can own a "home," collect their game trophies, socialize with other players, throw parties, play mini-games, watch movies or simply explore the growing space.
Sony explains some of what to expect when the open beta launches, "For users in North America, Sony Computer Entertainment America (SCEA) will launch game-themed, high-definition virtual environments, including the Uncharted: Drake's Fortune and Far Cry 2 spaces and the soon-to-be-released Warhawk, Resistance, Guitar Hero, and SOCOM spaces. In these environments, users will discuss specific games, plan strategies, and access content and clues that will enhance their gaming experience."
Sony also promises upgrades from the closed beta to the open beta for those players who have been a part of Home through the past several months. Buser explains, "First of all, the Central Plaza now features a new 4 player mini-game called Saucer Pop, where each player launches a flying saucer from a take-off pad and flies around popping bubbles. These bubbles contain stars that have points attached, but watch out for the bubbles with bombs which will take you out if you're not careful. You also must keep an eye on your saucer's fuel gauge and collect bubbles with fuel cells or else you will quickly meet a watery fate. Success is all about the high scores, so good luck out there!"
"Secondly, you will also see some changes to Listen@Home. Now, you'll be able to select from a number of songs and vote on your favorites. Which ever song gets the most votes plays for everyone, so be sure to get your voice heard and get down on the dance floor."
Home's arrival will compete directly with Xbox 360's New Xbox Experience powered by Xbox Live, also with user-created avatars. Home is a completely different and arguably more socially-driven experience complete with corporate sponsorships like Diesel clothing being available for Avatars as a micro-transaction, so it will be interesting to see which interface and interactive abilities gamers ultimately find more appealing.