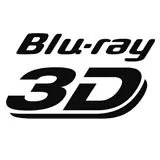 Sony Computer Entertainment used the currently underway Tokyo Game Show (TGS for those who follow gaming) to announce that Blu-ray 3D playback will be available in firmware update v.3.50 beginning next week on Tuesday, September 21. It was originally believed the update would not be ready for release until next month at the earliest.
With the early PS3 Blu-ray 3D support comes an unfortunate caveat. The movies will play in full 1080p 3D on PS3, but portions of the 3D menus and possibly some bonus features will only play in 2D. I'm hoping to get more clarification as to which already announced standalone and bundle titles may be affected after Sony returns from TGS.
As of now there are only two standalone Blu-ray 3D releases available on the market and both are from Sony: Cloudy With a Chance of Meatballs and Monster House. Earlier today Sony dated Open Season for November 16 and Warner Bros. announced six Blu-ray 3D titles coming the same, including Clash of the Titans (2010).