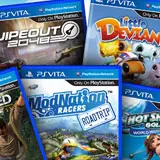 At least two retailers are running deals this week to entice early adopters of Sony's new Playstation Vita handheld gaming console to pick up more than a single game at launch.
Over the weekend, GameStop rolled out a "buy two first-party launch games, get the third game free" program. There are only five Sony Computer Entertainment America games available in this deal so you would have to purchase 60 percent of them to take advantage. They include: Uncharted: Golden Abyss, Mod Nation Racers, Little Deviants, Hot Shots Golf: World Invitational, and WipeOut 2048.
Head over to GameStop.com or check into one of their many retail outlets to take advantage of this PS Vita deal. The deal ends on Saturday, February 245.
Over at big box retailer Target.com there's a similar deal, though without the restrictions of GameStop. There you can buy two of ANY of the PS Vita launch games and receive a third one for free.
The caveat to Target is that they are holding back much of their Vita software product until the Wednesday, February 22 system release. Dan and I went into two different Targets over the weekend and saw a total of two different Vita games on the shelf.
If you want to take advantage of the Target now, I recommend heading over to Best Buy or Walmart. They price match, and will honor the Target ""buy two, get one free" advertisement in their weekly flier. Better yet, they have already put all the launch games out on the shelf.
The wild card is Amazon.com whose only deal, a free screen protector kit ($5 value) when you pre-order the 3G PS Vita Launch Bundle, expires when the system is released. We'll pass along any additional Amazon PS Vita deals should they materialize just after launch.