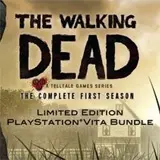 Online retailer Amazon.com is throwing prospective PS Vita fans a bone today on the actual Black Friday 2013 with a PS Vita Black Friday deal that offers an economical entry for the PS4's companion device.
The deal is part of Amazon's Gold Box Deal of the day and the best PS Vita Black Friday deal I have personally seen thus far. For the remainder of today, Friday, November 29, Amazon is selling the Amazon.com-exclusive Black Friday-exclusive PS Vita The Walking Dead holiday bundle for $174.99. That is a solid $85 less than what it was selling for yesterday and every day before.
Here's what you get with this Amazon.com-exclusive PS Vita holiday bundle: a PS Vita handheld gaming device (the 3G/Wi-Fi version); 4GB memory card; charger; and vouchers to download four gamea: The Walking Dead: The Complete First Season with the 400 Days DLC, Uncharted Golden Abyss, Retro City Rampage, and Sly Cooper: Thieves in Time.
Click here to buy the Amazon-exclusive PS Vita bundle for $174.99.
This bundle was constructed exclusively for Amazon.com and specifically for today, Black Friday. It's especially a great deal for PlayStation 4 owners as it acts as a second-screen device for any PS4 game that supports that feature, which is the majority of them. Considering a PS Vita with no games and not the 3G version usually costs more than this, the price is frankly a steal.
Simply put: this is one of the best video game deals for Black Friday 2013 that I have seen.