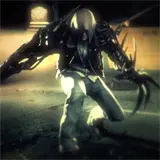 Radical Entertainment's Protoype's 2 million plus units sold was incentive enough for Radical and Activision to get busy on a sequel, made official via a reveal trailer during the 2010 Spike VGAs.
The announcement for Prototype 2, due in stores sometime in 2012, promises to continue the story of shape-shifting Alex Mercer. It also suggests Mercer will be "destroyed" by Sgt. James Heller. That fits in the game's tagline "destroy your maker."
Check out the Prototype 2 trailer below, and look for an exclusive preview for the game in the April issue of EGM.
> >