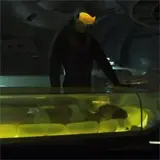 Ridley Scott's Prometheus is the type of film where knowing less going in will equate to more enjoyment coming out. Yet it's hard to resist new footage when it becomes available, as is the case with a new Prometheus international trailer that runs a full three minutes in length.
As with the previously released Prometheus trailers, this one plays like a cliff notes version of the film. Mankind makes a discovery that possibly offers answers to our origins on another planet. The Weyland-Yutani corporation sends an exploratory vessel, the Prometheus, out to a mysterious planet to investigate. What they discover isn't exactly friendly and will threaten not only them, but the future of mankind.
This Prometheus international trailer, dubbed the official launch trailer, sheds a little more like on the role of Charlize Theron's Meredith Vickers character. She is presented as a no-nonsense "suit" representative from Weyland-Yutani, the "Burke" if you will, who will likely have a hidden agenda if the basic template of past Alien films is loosely followed.
I urge you to avoid this Prometheus international trailer if you have somehow managed to avoid all Prometheus footage and spoilers thus far. It paints the clearest picture of the film we have seen yet, including several scenes I wish Fox's marketing team had kept out of their promotional materials. Hopefully the best is still tightly under wraps.
Prometheus is still without a rating but Fox promises whatever cut Ridley Scott presents is what will be shown theatrically, regardless of whether it R or PG-13 material. The film stars Noomi Rapace, Michael Fassbender, Idris Elba, Charlize Theron, Guy Pearce (who has been noticeably absent from all trailers) and Logan Marshall-Green, and will touch down in theaters on June 8.