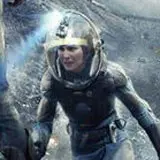 Thanks to the multiple Prometheus trailers already in circulation, we know that the captain (Idris Elba) of the Prometheus ship will kamikaze into the derelict spaceship seen in the opening act of Alien in a suspected attempt to stop the ship from reaching earth. Now this spoiler is being reinforced in a new Prometheus international poster.
The poster shows several crew members of the Prometheus running away from the site where the Prometheus slams into the alien vessel. Noomi Rapace and Charlize Theron's faces are clearly visible, and the person seen in the foreground with his back turned is likely the android David played by Michael Fassbender. We don't know what happens after this crash, but it would have been nice not knowing the Prometheus sacrifices itself to save earth before seeing the film.
There's also a new international Prometheus TV spot floating around that, in my opinion, dives way too far into spoiler territory. I deliberately haven't posted it here as I'm trying to forget having watched it in the first place. If you thought the Prometheus showed too much, this TV spot takes spoilers to a whole new level of ridiculousness.
Ridley Scott's Prometheus touches down in theaters in a little over three weeks from now on June 8, 2012.
Source: Facebook