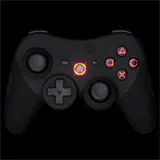 Many gamers had already spent upwards of a year on Microsoft's Xbox 360 and had become accustomed to their controllers by the time Sony's Playstation 3 gaming console was released. When it came time to dig into Heavenly Sword on the then new PS3, the console's smaller and more condensed configuration didn't feel quite right.
For some, the disparity between Xbox 360 and PS3's controller continues to be an ergonomic issue to this day. Enter Power A's Pro Elite Wireless PS3 controller, a nifty little gadget that mimics the design of Xbox 360's controller but works exclusively with Sony's PS3. It's not quite a perfect piece of hardware but more than adequately fills the void of an Xbox 360 controller design that works on PS3.
Out of the box the Pro Elite's flat black look and natural feel is sturdy and satisfying. It has a textured surface across portions where your hands rest that eliminate any slippage sweat from intense gaming situations might induce. Sixaxis and rumble are included, as is a cable and USB dongle to hook the controller up to your PS3 for a recharge. Simply plug it in, charge it up and you're ready to rock.
A neat and almost unexpected feature is the controller's large face buttons light up red when the controller is turned on. The feature can be turned off but I can't fathom any reason why you'd want to. Lit buttons aid in finding the right button if you happen to forget square, triangle, etc. in the dark, not to mention they look really cool and will impress your friends, significant other or even pet.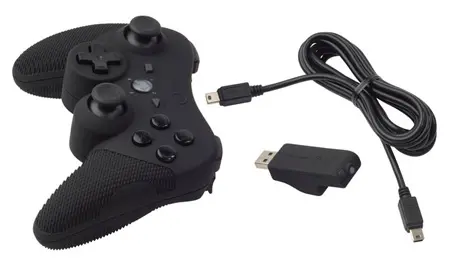 Pro Elite's shoulder buttons are much longer than on Sony's official PS3 controller, again more mimicking the Xbox 360 design. This design results in more of a trigger feel to them rather than large buttons, best recognized and appreciated while playing first-person shooters.
A wider distance between the analog sticks and wings helps reduce finger pain and feel appropriately natural when grasped. I found my hands and fingers not hurting or aching at all after playing Medal of Honor straight for close to two hours.
Those same analog sticks are unfortunately a hair too sensitive and loose to the touch. You adjust to it after awhile but there's an initial shock of navigating the PS3 XMB and missing your intended cursor spot a few times. The only other knock against the Pro Elite is you cannot use it to turn on the console; instead, the console must be turned on via its power-on button and then the controller turned on next.
The Pro Elite Wireless PS3 controller currently sells for around $40, a decent deal considering the upgrades it offers – especially the light up buttons – as well as including Sixaxis and rumble. If you prefer an Xbox 360 controller's feel over PS3 and want that feel for your Sony games, then the Pro Elite should be your first stop.
– Dan Bradley
Shop for the Pro Elite Wireless PS3 Controller for a discounted price at Amazon.com.