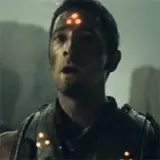 Last night, Fox and Robert Rodriguez began pumping Predators at SXSW in the form of a two-minute behind-the-scenes video and promise of the first trailer on March 18.
Today, the L.A. Times wrangled director Nimród Antal (Armored) into a phone call to talk about the film and get the dish on where it falls in within the existing Predator mythology. They also shared a nice clean version of the first Predators one-sheet movie poster debuting at SXSW. And yes, I want one.
** SPOILER ALERT **
According to the article, Predators is a reboot of the franchise but also a sequel of sorts to the original 1987 film that starred Arnold Schwarzenegger. The Predators, amazed that a human (Arnold) was able to take down one of their own, immediately hatch a plan to wrangle up some of the most dangerous humans around the world. They then dump this band of mercenaries, thieves and other nefarious types that include Adrian Brody, Topher Grace, Lawrence Fishburne and Alice Braga into a "preserve" where they can be hunted. To add a wrinkle, one of the humans may be a serial killer amongst a group not known for embracing the concept of working as a team.
"They are all predators in their own right and they are at each others throats," Antal explains about the hunted. "We're expanding the mythology but we're also making a stand-alone film. And, I hope this doesn't sound arrogant, but when it comes to imagery that not one of the previous can come close to. I'm very proud of the way the film looks."
Antal nailed the dilapidated abandoned steel mill look in Armored so that comment is easy to roll with. He'll need to make up for all of that film's many character and narrative shortcomings to meet the expectations Predators is already saddled with.
Source: L.A. Times