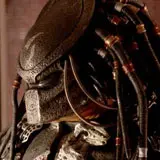 Production Weekly has Tweeted the Robert Rodriguez produced and Nimrod Antal directed Predators reboot will begin filming on September 28 at Rodriguez's Troublemaker Studios in Austin, Texas.
In the film, a group of humans will find themselves on a Predator planet and have to survive the attack of monsters who may be outside and inside their group.
Fox is rushing Predators to the big screen with a summer 2010 release and hopes of reviving the franchise after the Aliens vs Predators films failed to live up to expectations. Predators casting announcements are expected to begin trickling in over the next few weeks.