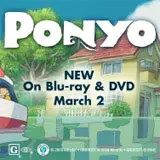 Disney Home Entertainment will bring Hayao Miyazaki's watery animated tale Ponyo to Blu-ray Disc and DVD on March 2.
Ponyo was at one time planned for its home video debut on December 8 but was pushed back. With the delay, Disney will release new editions of Castle In The Sky and My Neighbor Totoro exclusively on DVD day-and-date with Ponyo.
No additional Ponyo on Blu-ray details are known at this time. I'll be sure to share them once available.