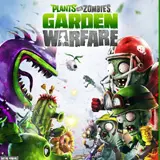 All early Xbox One adopters will be happy to learn that the PopCap Games Xbox One and Xbox 360 exclusive Plants vs Zombies Garden Warfare has locked into a February 18, 2014 release date. By my crude math that is less than three months from now.
Plants vs Zombies Garden Warfare was a surprise hit of E3 2013 that evolved the popular mobile franchise into a full-blown third-person shooter. The goal is still to shoot the enemy before they shoot you, but PopCap sucks all the seriousness out of a tired genre that takes itself way too seriously and delivers a shooter that is as fun as it is competitive.
EA have confirmed that the Xbox One and Xbox 360 games will be virtually identical in content, but obviously the visual presentation on Xbox One will be a step up from its companion sku. The only gameplay difference is that the Xbox One versions offers split-screen play while the Xbox 360 version only allows multiplayer online, and Xbox One has a boss mode that utilizes a tablet and SmartGlass or Kinect to take a bird's eye view of the combat and deliver items and intel to teammates.
A total of 10 maps will be included on the disc with a pair of competitive 12 vs 12 player modes, Garden & Graveyards and Team Vanquish, and four-player cooperative play called Garden Ops. Garden & Graveyards features plants defending their turf from zombies that want to turn the garden into a graveyard. Team Vanquish is straight up blasting the enemy.
In addition to revealing the Plants vs Zombies Garden Warfare release date, EA and PopCap have delivered a new trailer loaded with new gameplay footage and customizations options, and accompanied by commentary from the game's Executive Producer Brian Lindley. Set aside a nice chunk of time to give it a watch as the video runs nearly 10 minutes in length.
Unlike the recent release of Angry Birds Star Wars at full price, Plants vs Zombies Garden Warfare will be a discounted release at $39.99 for Xbox One and $29.99 for Xbox 360.
Pre-order Plants vs Zombies Garden Warfare at Amazon.com.